There are too many fairy tales that focus on finding Prince Charming and not enough that focus on the things that really matter in life—like finding your ideal hair stylist.
I've put in the leg work and I won't apologize for my body count—except not the number of people I've slept with, but the number of people who have done my hair.
All jokes aside, finding someone you trust with your hair is hard work. It's a lot of trial and error and the stakes are really high. So, at the risk of sounding like a super douchey humble brag Facebook post, I am so thrilled to share with you that I have found the one.
ARE WE (HAIR) SLUTS?
I'm not going to lie to you. In terms of hair stylists, I've kind of been around the block. Some of them were full blown exclusive relationships and some were just a one time thing.  Sidenote: this is a very Sex and the City "are we (hair) sluts?" moment. To be fair, I have done a lot with my hair. It has been brown, black, blonde, purple, pink and almost every color and length in between. I've been sporting the blonde balayage for a few years but prior to this I had a quarter life crisis and chopped all my hair off. I mean, I had a full blown "can I speak to the manager" haircut. My hair was so short that my neck was shaved. It wasn't good a look and I still have PTSD from it. I digress.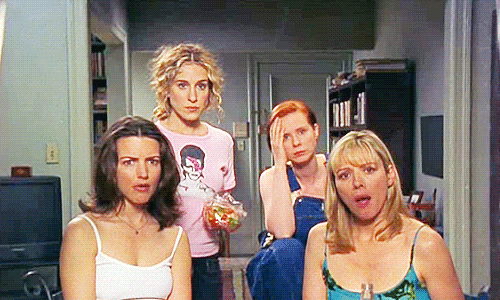 There are few things in life I am more protective over than my hair. My eyebrows are a close second, but my hair absolutely takes the cake. If we're being honest, I am more concerned with finding someone I trust unconditionally with my hair than with finding a husband. I don't need a husband but I do need my hair to look good. I mean, #priorities.
Despite my formerly promiscuous salon tendencies, I truly am a ride-or-die kind of girl. It's not really that I wanted to sleep around, so to speak, I just hadn't found the right person. And I'm proud to say that I have finally found my hair soulmate.  
CURIOSITY KILLED THE CAT (BUT SLAYED MY HAIR)
I had been going to the same salon in Lansing for over a year and, to be honest, I was happy with my hair. I wasn't even looking for a new salon but I kept hearing amazing things about a girl who was working at Glo Salon in Grand Ledge and it piqued my interest.
Like any curious person in 2018, I decided to see what she was all about by following her on Instagram and was blown away by her portfolio. She is a hair wizard, y'all. I reached out to her to set up an appointment and I haven't looked back.
GLO SALON
I always get extremely nervous before someone does my hair for the first time. Aside from the obvious, "is my hair going to turn out how I want it?" question, there are so many elements to visiting a new salon. What's the vibe of the salon? Is it pretentious? Am I going to be judged? (Having your hair done is vulnerable. When I get to that bowl she's going to see me looking like a wet rat and there will be ring of foundation missing from my hairline after the shampoo. I need a nonjudgmental person. I do not wake up looking like this, okay?) Are they going to personable or are we going to make awkward small time the entire time? Or worse yet, be in awkward silence the entire time?
When I walked into Glo Salon, I knew that it wasn't going to be one of those pretentious, hoity-toity salons. It feels welcoming, it's cute af and there are exposed brick walls. I had been there for two seconds and 10/10 would already recommend.
ALLISON MALLOY: HBIC (HAIR BITCH IN CHARGE)
When I met Allison, I felt like I had known her forever. Even though we had never met, when I walked into the salon she recognized me and she ran over and gave me a hug. She is truly one of the sweetest, most personable women I have ever met. If I'm being honest, she could have ruined my hair and I wouldn't even have cared because I just love her as a person.
But she didn't ruin my hair, she transformed me into the blonde queen that I have always been meant to be.
Another thing I really appreciate about Allison is that I can tell how passionate she is about her work, and how much she cares about continuing her education. Hair stylists don't get enough respect for what they do—it truly is a science. She's always going to different trainings to learn new things, she uses amazing, high-quality tools and products (she has a Mason Pearson hairbrush!) and she pays the utmost attention to detail. I truly can't say enough good things about her.
Another reason I love Allison (there are a lot, I won't apologize for it) is how she has treated my mom. After going through chemotherapy many years ago, my mom has been extremely hesitant to do anything to her hair. For nearly 10 years, she refused to put any color on her hair and even cut it herself. She has a very sensitive scalp, and needs someone who will be respective of and attentive to her specific needs. I had convinced her to go to a few different salons I was going to (one in Jackson, one in Lansing) and she was never in love with the results or the service. When I met Allison, I knew that not only was she an amazing fit for me, but was she finally the person my mom would feel comfortable going to and be happy with. I was right. My mom raves about Allison (and rightfully so). 
By the way, it turns out, I'm not the only person stanning Allison. She was recently named one of the top hair stylists in Lansing by the Lansing City Pulse. Yaaaas, kween.
TL;DR
If you are looking for a new hair stylist (or even if you're not) I cannot recommend Allison Malloy at Glo Salon enough. She is sweet, she is hilarious, she is talented and she is reasonably priced. What else could you possibly want?